Inspired by Elsie
Things in my home that make me happy! You'll notice that I like small things and thriftstores. I also keep things forever!
My vintage books. Old dollie that used to be my class mascot. A fake lucky clover.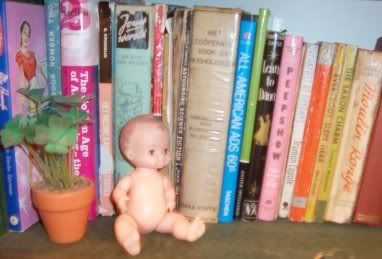 Cute jars from Xenos, my favourite shop for home things.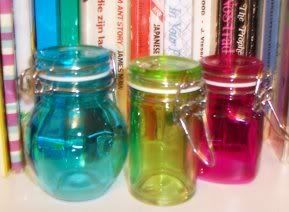 50's pack of cards, 60's music box, and a childhood hero!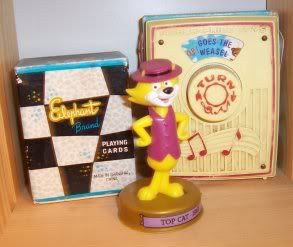 My 2 oldest teddies. The one on the left was handmade about 50 years ago, the other is a Steiff from my gran.
Alan Cumming movies, all but one found on eBay!
My 50's sofa, lots of cushions, and our pet dragon!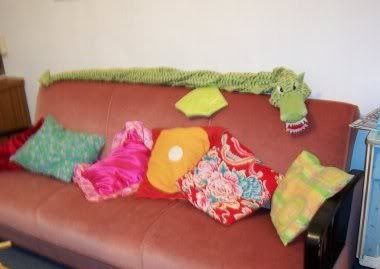 Dried roses and my mom's old dollie
Oven gloves, love them! The Marilyn ones are no good for the oven though, I burnt my hand using those and she looks like a man on them too.
Jukebox radio & fruit!
Molly's best artwork framed.
Some fridge magnets and more Molly art.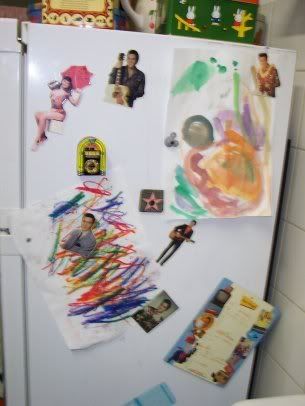 My picture board with pix of friends. I keep meaning to add some flowers to this.
I love books. I have had the rag doll since I was 4, her face came off in the wash but I will paint it back on someday.
Little craft corner!
My little shelf with yummie Oil & Vinegar things. My favourite shop for presents!
My lettertray full of miniatures. I made some of those bears myself and I won the Golly in a bearmaking competition years ago.
My best piece of furniture: Vintage cabinet! The fab vintage fan was my gran's.