Crafty weekend!
How to make a boring PC corner into a happy one!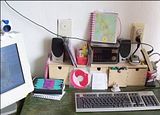 Useful but a bit of a mess.
I've taken everything out and cleaned it.
Painted the drawers in my favourite colours
And painted a little wooden box too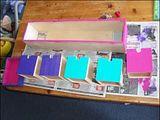 Added my favourite scrap paper!
Painted over canvas I don't like
Wheee! Love those colours!
Painted Cracle on the box and 2 of the drawers.
Scrapped Molly photo with matching scrap papers
glued small mirror to the canvas
Layered some Prima Flowers™
Added glittery flower to box, put notebooks in. Filled all the drawers with pens, other desk bits and candy
Put canvas on wall in place of old mirror
There's my new mirror!
Tadaa! This makes me happy!